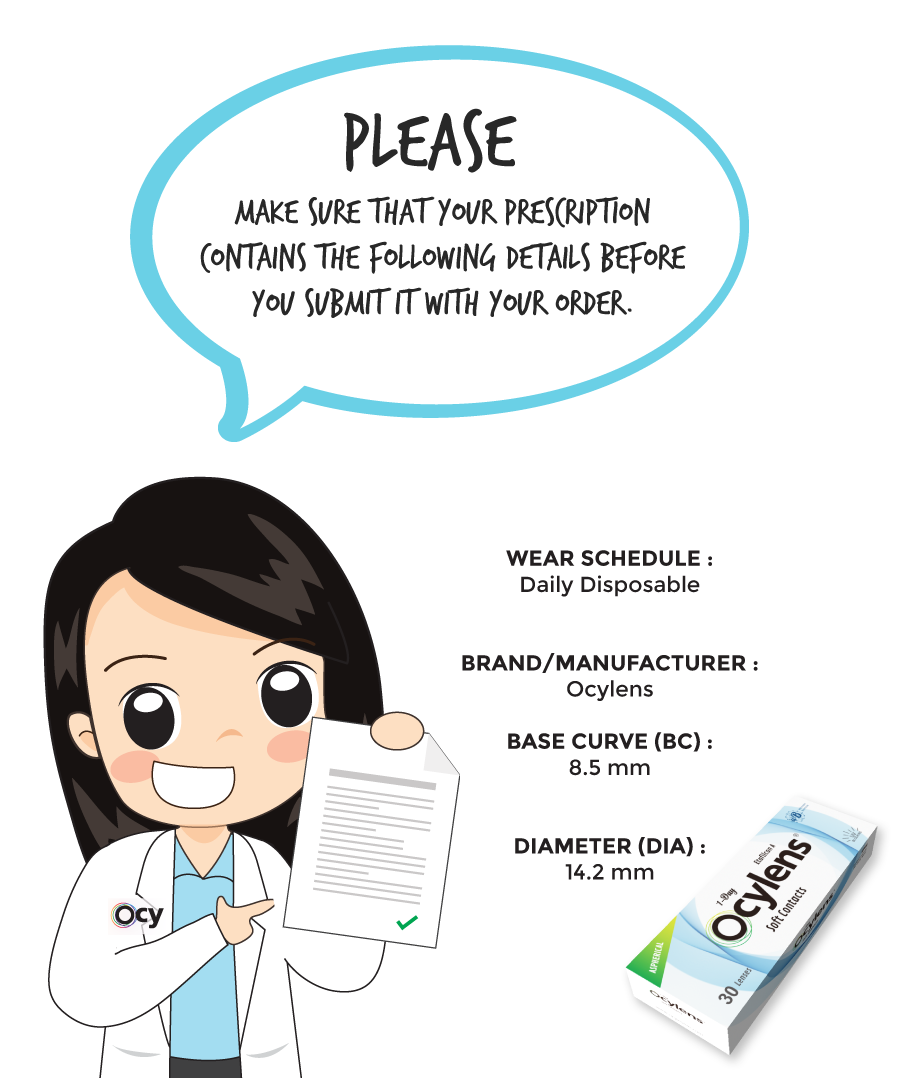 WHAT IS A PRESCRIPTION?
A contact lens prescription is an instruction written by an eye care practitioner that authorizes a patient to be issued with contact lenses.
A contact lens prescription is not the same as a glasses prescription. A contact lens sits on the surface of the eye whereas a spectacle lens sits slightly further away. This difference in position affects the resulting power of the lens. Hence, a glasses prescription CANNOT be used to purchase contact lenses.
By law, we cannot provide our brands of contact lenses to you without a valid contact lens prescription.
WHY DO I NEED A PRESCRIPTION?
For your own safety and health benefits. It is also the law. Contact lens sales are regulated by both the US Food & Drug Administration (FDA) and the Federal Trade Commission (FTC). All contact lenses are classified as medical devices by the U.S. Food and Drug Administration (FDA) and require a valid prescription. Buying and selling contact lenses without a valid prescription are illegal.
As a seller, the law requires that we provide you contact lenses as requested or ordered only in accordance with a valid prescription that is directly presented to us or verified with your prescriber.
That means you must obtain a prescription from a licensed eye care practitioner which specifically PRESCRIBES OUR BRANDS of contact lenses (e.g. Ocylens) before you can buy our contact lenses.
Please see U.S. Food & Drug Administration.
WHO CAN WRITE YOU A CONTACT LENS PRESCRIPTION?
Only a licensed eye care professional can issue you a prescription. According to the law, a prescriber refers to anyone permitted under the state law to issue prescriptions for contact lenses – including
Ophthalmologists
Optometrists
Licensed Opticians who also are permitted under state law to fit contact lenses (sometimes called "dispensing opticians.")
Please see Where To Find Your Nearest Ophthalmologists and Optometrists.
HOW TO OBTAIN A CONTACT LENS PRESCRIPTION
IF YOU NEVER HAD ONE BEFORE?
If you never wear CONTACT LENSES before, you need to schedule an appointment to meet with an eye doctor or an eye care practitioner in your local area for an in-person eye examination (and lens fitting).
Please consult your doctor if our brands of contact lenses are right for you. Our representatives are standing by ready to answer any questions by your doctor and guide you through the process to obtain the right prescription to buy our contact lenses.
I ALREADY HAVE A PRESCRIPTION. BUT MY DOCTOR PREVIOUSLY PRESCRIBED A DIFFERENT BRAND OF CONTACT LENSES FOR ME. WHAT CAN I DO?
You must update your prescription first because, by law, you cannot buy any brands of contact lenses that is different from the one prescribed by your doctor.
But no worry. You always have THE FREEDOM TO CHOOSE. But to change your prescription to OUR BRANDS of contact lenses, you must consult an authorized eye care practitioner.
You may visit your eye doctor (the one who issued you the prescription) and express your desire to CHANGE TO OUR BRANDS of contact lenses (e.g., Ocylens.) Your doctor will review and advise you if our contact lenses are right for you and revise your prescription accordingly. Our representatives are standing by ready to answer any questions by your doctor.
Option #2. You can update your prescription conveniently by taking an online prescription renewal test with Visibly®. Visibly Inc.
has a team of ophthalmologists licensed in your state who can review your test results and prior prescription before writing and signing a new prescription for you (normally within 24 hours.)
Please contact Visibly® at www.govisibly.com to learn more about their online test service.
DISCLAIMER : You can choose to renew your prescription online with Visibly® at a special price of $19.95 per test. However, please take caution when taking the test with Visibly®. Western Biotech does not provide any online vision test nor prescription renewal service. We are not affiliated with Visibly Inc. and, therefore, cannot be responsible for your test with Visibly.
YOU HAVE THE RIGHT TO CHOOSE.
Please consult your doctor or any eye doctor if your current prescription
requires another specific brand of contact lenses
but you wish to change to OUR BRANDS.
WHAT SHOULD I DO IF I ALREADY HAVE AN UNEXPIRED PRESCRIPTION BUT I CANNOT FIND IT?
If you lost or cannot find a copy of your prescription, no worry. The FTC allows a seller (us) to seek verification of a contact lens prescription with your eye doctor for you through a direct communication process. You simply provide us with the following information :
Your doctor's (prescriber's) name, office address and contact numbers (telephone number, facsimile number and electronic mail address.)
Your full name and address
The contact lens power, manufacturer, base curve or appropriate designation, and diameter when appropriate
The quantity of our brand lenses you would like to order
However, please note that the FTC does not allow a seller to alter a contact lens prescription. This means only your doctor can decide whether or not you can change a prescribed brand of contact lenses to ours. We can only make a request on your behalf for you.
Please see the FTC Contact Lens Rule
DO I NEED A PRESCRIPTION FOR COSMETIC CONTACT LENSES?
Yes. All contact lenses including those for corrective vision and those for appearance or cosmetic wear require a prescription.
HOW LONG IS MY PRESCRIPTION GOOD?
Prescription length for contact lenses is determined by state law. As a general rule, a contact lens prescription should be good for at least a year, unless your doctor has a medical reason for making it shorter. In some states, a prescription can be for as long as 2 years.
Please note that your eye health changes over time, so it's important to have regular exams. Therefore, it is a good practice to always keep your contact lens prescription renewed and updated at all time.
THE FTC CONTACT LENS RULE
In 2003, Congress enacted the Fairness to Contact Lens Consumers Act, which requires prescribers to give patients a copy of their contact lens prescriptions at the end of a contact lens fitting, even if the patient doesn't ask for it.
The Act also requires sellers of contact lenses to verify prescriptions with prescribers before selling the lenses.
In July 2004, the Commission issued the contact lens rule to implement the Act.
Please see the FTC Contact Lens Rule.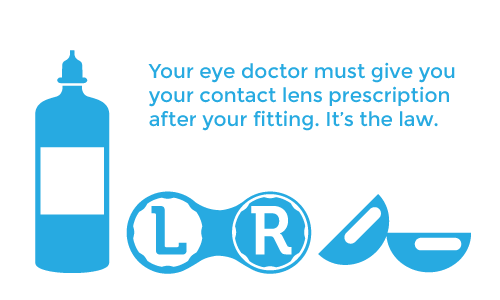 WHAT ARE YOUR RIGHTS UNDER
THE FTC'S CONTACT LENS RULES?
If you get a fitting for contact lenses, the eye doctor must give you a copy of your prescription – whether you ask for it or not. It's the law.
The doctor can't require you to pay an extra fee, buy contact lenses, or sign a waiver or form.
Consumers have the right to shop around when buying contact lenses.
The seller needs a copy of the prescription to fill your order.
CONTACT LENS PRESCRIPTION BASIC
After you have completed your eye examination and contact lens fitting at your local optician, you will be provided with a copy of your contact lens prescription. According to the FTC Contact Lens Rule, contact lens prescription means a prescription, issued in accordance with State and Federal law, that contains sufficient information for the complete and accurate filling of a prescription for contact lenses, including the following
The name of the patient
The date of examination
The issue date and expiration date of prescription
The name, postal address, telephone number, and facsimile telephone number of prescriber
The power, material or manufacturer or both of the prescribed contact lens
The base curve or appropriate designation of the prescribed contact lens
The diameter, when appropriate, of the prescribed contact lens
In the case of a private label contact lens, the name of the manufacturer, trade name of the private label brand, and, if applicable, trade name of the equivalent brand name.
Key parameters in your prescription to consider when buying contact lenses are (1) Power (D) (2) Base Curve (BC) and (3) Diameter (DIA).
Additionally, you may want to consider the Lens Material Type, the Water Content and the Dk Value.
Base Curve (BC) : This number indicates the curvature on the inside of a lens. Your doctor will try and match the curve of your contact lens to the curve of your eye to find the best-fitted contact lens for you. The base curve is measured in millimeters (mm) and usually between 8 and 10 mm. The more bulged or curved your cornea is, the lower the base curve number will be.
Diameter (DIA) : This number indicates the width or the length of the contact lens from one edge of the lens to the other. This is effectively the size of the contact lens and is used to make sure the contact lens covers the correct parts of your eye. The diameter is measured in millimeters (mm) and usually averaged between 13.5 and 15 mm.
Power (PWR) / Sphere (SPH) / Diopter (D) : This value is the power of the lens needed to correct your long or short-sightedness and is measured in Diopter (D).
A minus (-) sign indicates that you are short-sighted (myopia), whereas a plus (+) sign shows that you are long-sighted (hyperopia). The higher the number, the stronger your prescription. Technically, the spherical power is calculated in a unit of measurement equal to the reciprocal of the focal length of a lens called a diopter.
Right Eye (OD) : OD stands for the Latin phrase "Oculus Dexter" which
means "right eye." OD is always listed first in the prescription.
Left Eye (OS) : OS stands for the Latin phrase "Oculus Sinister" which
means "left eye." OS is always listed second in the prescription.
If both the left and right eye have the same diagnosis and prescription information, the abbreviation "OU" from the Latin phrase  "Oculus Uterque" or "Ocular Uniter" which means "both eyes" is used instead.
Materials : The five most popular types of contact lens materials are Silicone Hydrogel Lenses, Hydrogel (Soft), Gas Permeable (GP), Hybrid and PMMA.
Read Contact Lens Material.
Wearing Time : The Daily Wear (DW) type must be removed nightly whereas the Extended Wear (EW) type can be worn overnight, usually for seven days consecutively without removal. Continuous Wear (CW) is the 30 consecutive nights of lens wear.
Replacement Schedule : Even with proper care, contact lenses should be replaced frequently to prevent the build-up of lens deposits and contamination that increase the risk of eye infections. Daily disposable lenses are to be discarded after a single day of wear; Disposable lenses are discarded every two weeks or sooner; Frequent replacement lenses are discarded monthly or quarterly; Traditional (reusable) lenses are discarded every six months or longer.
Lens Design : Spherical contact lenses are the typical, rounded design of contact lenses, which can correct myopia (nearsightedness) or hyperopia (farsightedness). Aspheric contact lenses are lenses of another design where the lens surface profiles are not portions of a sphere or cylinder. The aspheric design gives you greater image resolution, enhanced visual quality and an increased depth of focus.
Color : Color is generally not used in the treatment of a refractory error. However, contact lenses do come in numerous colors or tints. Visibility tints don't change the way a lens functions but are intended to help the wearer differentiate lenses from a storage case.
Cylinder : For patients with astigmatism, the cylinder power of a lens measures the degree to which a lens must account for astigmatism. The cylinder is an oval band on a lens that enables an individual to see all ranges clearly at once and is measured in diopters, like spherical power. The cylinder power of a lens is typically expressed with a minus (-) sign and is always written separately from the sphere power to avoid confusion.
Axis : The axis indicates the orientation of astigmatism, a measurement that designates where the cylinder correction should be located. Generally, the cylinder runs up and down or side to side, at 90 degrees or 180 degrees. The symbol "x" normally precedes the axis.
Add Power : For patients with presbyopia alone or in conjunction with another refractory error, bifocal or multifocal lenses are often needed. In this case, an "add" measurement is also used in a prescription. This measurement indicates the additional amount of power needed to ensure clear vision at a close range and is always preceded by a plus (+) sign.
ARE OUR CONTACT LENSES RIGHT FOR YOU?
PLEASE CONSULT YOUR DOCTOR.
FOUR KEY PARAMETERS OF OCY CONTACT LENSES
1-DAY OCYLENS
1-DAY OCY VITA
1-DAY OCY AIR
LENS MATERIAL
Hydrogel (etafilcon A)
Hydrogel (etafilcon A)
Silicone Hydrogel (olifilcon B)
BASE CURVE (B.C.) in Millimeter
8.5 mm
8.5 mm
8.8 mm
DIAMETER (DIA.) in Millimeter
14.2 mm
14.2 mm
14.1 mm
POWER in Diopter
Near-Sighted : -0.25 D to -12.00 D
Far-Sighted : +0.25 D to +4.00 D
Near-Sighted : -0.25 D to -12.00 D
Far-Sighted : +0.25 D to +4.00 D
Near-Sighted : -0.25 D to -10.00 D
Far-Sighted : +0.25 D to +8.00 D
KNOW YOUR RIGHTS. KNOW THE LAW.